Auto Windscreens drives support for Rainbow Trust Children's Charity with branded van fleet
Wednesday, 6 Jun 2018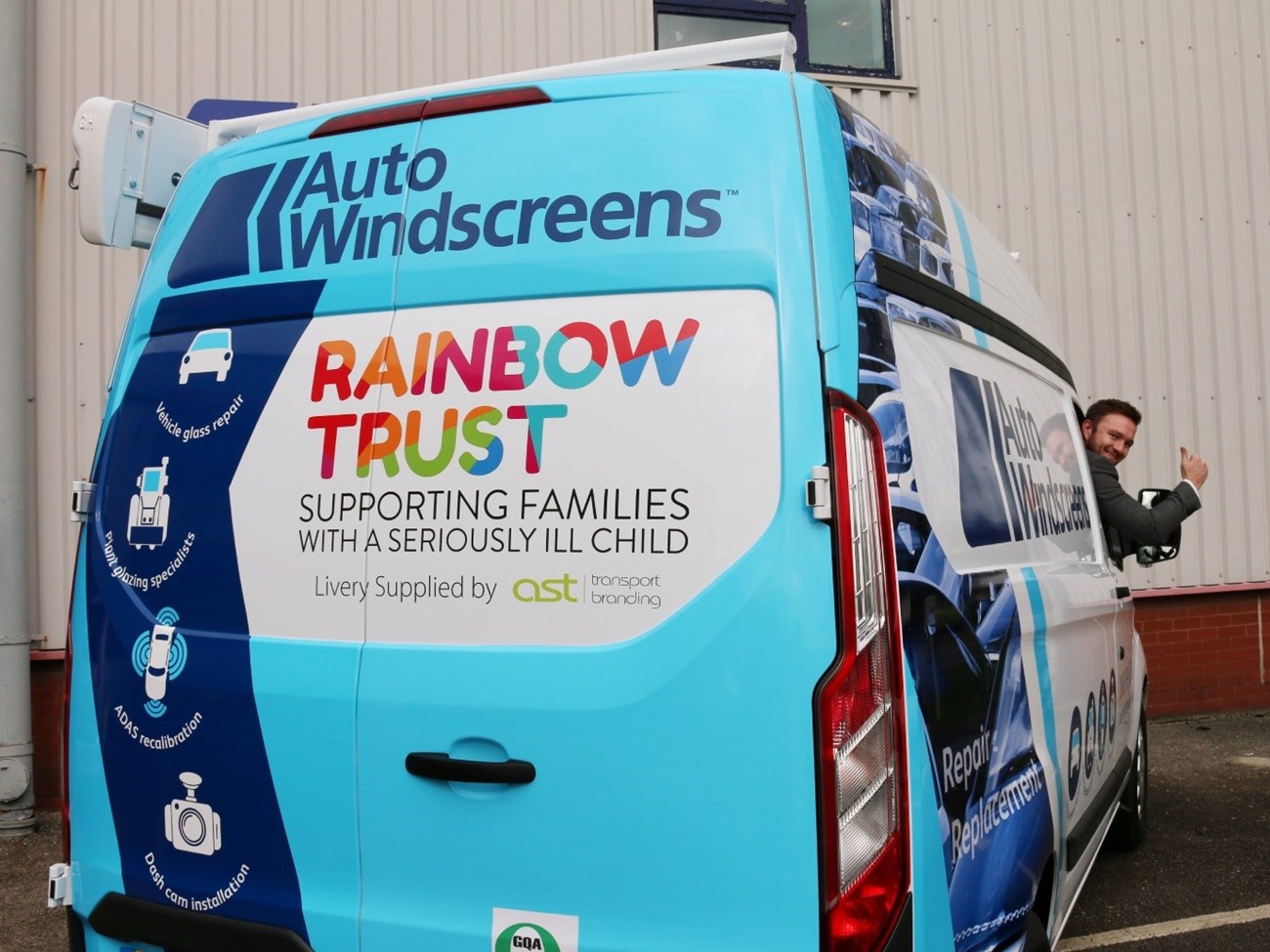 Auto Windscreens' new charity vans are 'clearly going places' with revamped livery and are taking Rainbow Trust Children's Charity, which supports families with a seriously ill child, along with them.
Thanks to a decision to introduce new branding on its commercial fleet, the provider of vehicle glass repairs and replacements will feature Rainbow Trust's logo on 14 vans in locations across the country, helping to super-charge the drive to heighten the charity's exposure.
Rainbow Trust, based in Leatherhead Surrey, is a national charity that enables families who have a child with a life threatening illness to make the most of their time together by pairing families with an expert Family Support Worker, who helps them at home, in hospital and in the community.
The charity relies almost entirely on voluntary donations and thanks to the generosity of its supporters helps over 2,300 families through its eight care teams across England, including Swindon, Essex, West London, Lancaster, Greater Manchester, Southampton and Sunderland, which are among the locations where the new Auto Windscreens vans can be seen.
The new livery, which was produced by transport branding specialists, Ast Transport Branding, now features the Rainbow Trust logo on the back of the vehicles and was proudly displayed at the 2018 Commercial Vehicle Show at Birmingham's NEC Centre from 24-26 April.
Rupert Armitage, Managing Director at Auto Windscreens, said: "Rainbow Trust is a really worthy cause and we feel passionately about supporting it through our national mobile glass repair network. Our vans look great and provide an obvious means to showcase the charity. Any drivers following one of them will be sure to notice the colourful charity logo."
Oonagh Goodman, Director of Fundraising and Marketing at Rainbow Trust, said: "We are very grateful that Auto Windscreens have provided such a fantastic opportunity to help us spread awareness about the vital support we offer to families with a seriously ill child to help them to make the most of precious time together."
For more information about Rainbow Trust visit rainbowtrust.org.uk