Auto Windscreens unveils new Ginetta G40 race car
Tuesday, 19 Mar 2019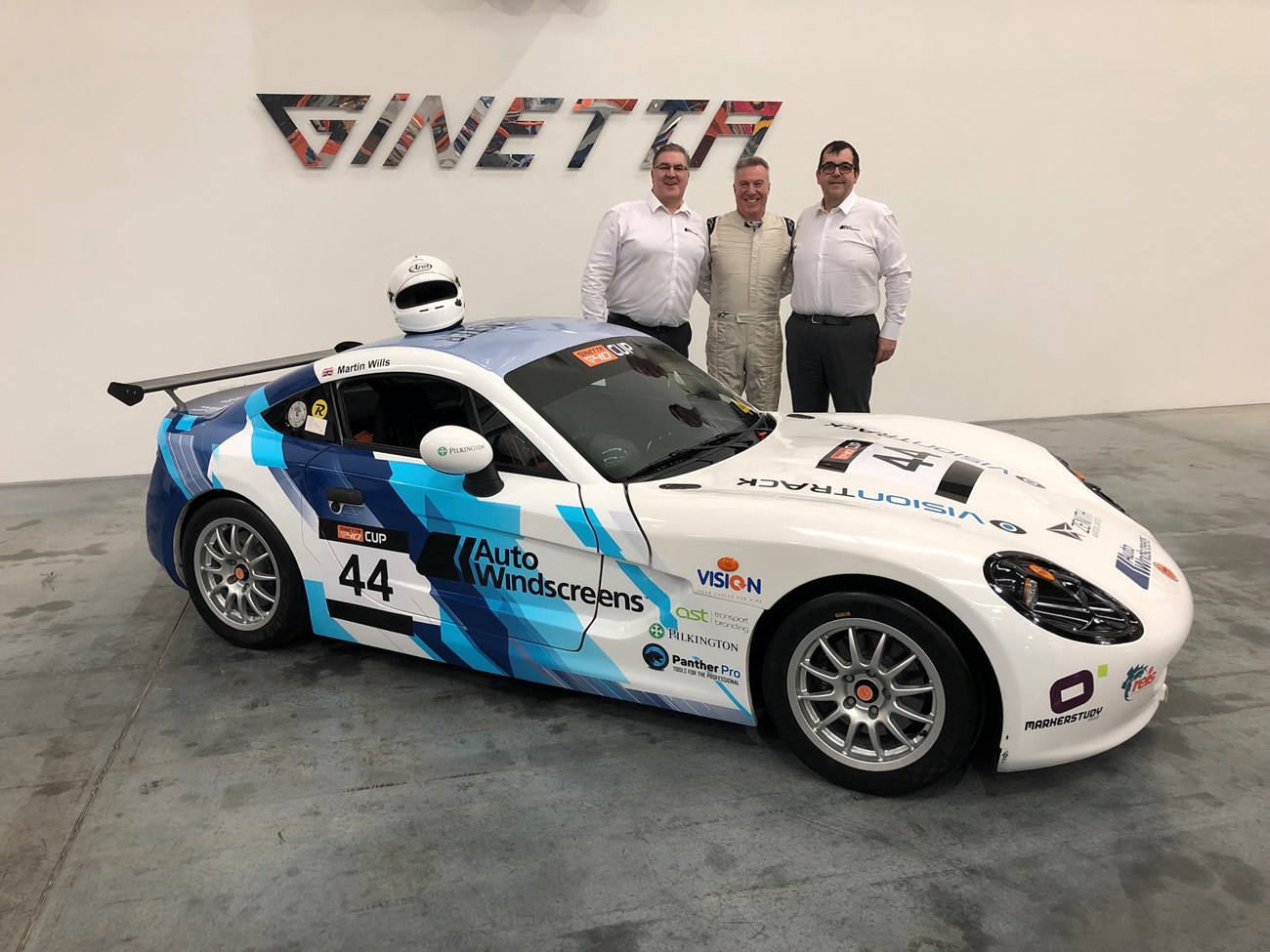 Auto Windscreens is gearing up for the 2019 Ginetta G40 Cup series, having unveiled its very own Ginetta G40 to be driven by experienced racing driver, Martin Wills as part of Assetto Motorsport's six-strong team.
The car will make its track debut at Oulton Park on 20 April and is being sponsored by VisionTrack, Zenith Aviation, Lancaster Insurance, Vision Vehicle Solutions, Reis Motorsport Insurance, Markerstudy Group, Panther Pro Tools, Pilkington and AST Transport Branding.
This new partnership with Ginetta follows Auto Windscreens' backing of the vehicle manufacturer's G60-LT-P1 car at 24 Hours of Le Mans last summer.
James MacBeth, Auto Windscreens' Operation Director, commented: "Auto Windscreens' history is steeped in motorsport affiliation and we're excited to be back on the track with our very own car. It gives us a great opportunity to showcase our brand to racing enthusiasts and competitors alike, whilst getting in the middle of all the action in the field."
Martin added: "I'm delighted to be driving the new G40, although it's the first time I've driven a car like this and on slicks. Hopefully, I'll do everyone proud, including Assetto Motorsport, who are the current reigning champions."
Martin has previously raced in the Lotus Elise Trophy Championship and, in his Lancaster Insurance-sponsored MGF, was a frequent racer at the MG Owners' Club Race Championship, winning it overall in 2010 and coming top in his racing class in 2018.
The Ginetta G40 Cup is a one-make championship for the popular Ginetta G40 race cars, with a packed grid of equal machinery serving up some fantastic racing. The championship provides drivers of all experience levels a platform to push themselves on track whilst competing in a welcoming paddock.
Sam Tomlinson, International Sales and Business Development Manager at Ginetta, commented: "It's only a few weeks until the Ginetta G40 Cup begins and we are thrilled to have Martin Wills backed by Auto Windscreens joining the grid for what promises to be a highly competitive series. We look forward to working with them as the year progresses."
G40 Cup Race Schedule:
Oulton Park - 20th/22nd April
Snetterton – 18th/19th May
Silverstone - 8th/9th June
Zandvoort British Race Festival - 6th /7th July
Brands Hatch - 3rd/4th August
Donington Park - 14th/15th September