If you are covered by Insurance
Most insurance policies cover glass damage, meaning you only pay the excess amount stated on your policy documents. Usually this includes windscreens, rear, roof and side glass, and Advanced Driver Assistance Systems (ADAS) calibration. The amount you pay may differ depending on the need for a repair* or replacement, and your No Claims Discount will not be affected. Some polices include free repairs - it is always worth getting a windscreen chip fixed before it turns into a crack.
We always look to repair a windscreen where possible, helping save you time and money, whilst also limiting the environmental impact. Find out if you will need a repair or replacement.
Book online or contact us to make a claim and we will handle everything for you, including speaking with your insurer and taking any excess payment . You will need your policy documents to hand and the date the damage occurred.
If your policy does not cover glass, do not panic – whatever your damage is, we can still help you! Read below for more information or call us for a quote.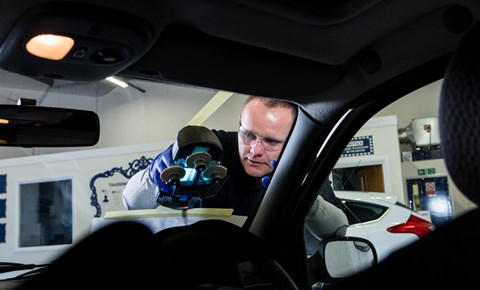 Paying for the repair/replacement yourself
Call us for a quote for any vehicle glass repair or replacement, including ADAS calibration if required. All you need is details of the damage and your vehicle information, including Vehicle Registration Number (VRN).
Prices start at £199 for a basic windscreen replacement or £75 for a repair and ADAS calibration of £175. We will always confirm what you will need to pay before your appointment.
Costs will vary, depending on your vehicle type and the damage. If a windscreen repair is possible, we will offer this instead of a replacement, saving you time and money, as well as being better for the environment. Read more on repair requirements. Replacement is always needed for rear, side and roof glass damage.
Newer vehicles may include safety systems, such as cameras, that require calibration after a windscreen replacement.
Our workmanship is valid for the lifetime you own the vehicle and we only use glass from our trusted partners who adhere to British industry standards.
Paying for the repair/replacement yourself
If you have an account with us, you can call your dedicated fleet line to organise a repair and replacement (and ADAS calibration if needed). There is no upfront cost - we will invoice your company for payment once the work is completed.
To find out if you have an account, please speak to the person who manages your vehicle fleet or call 01246 223 099 to check with us.
Not a fleet customer yet? To set up an account with us, please contact salessupport@autowindscreens.co.uk.